Our Team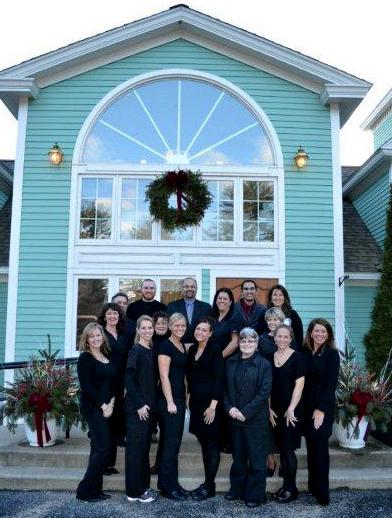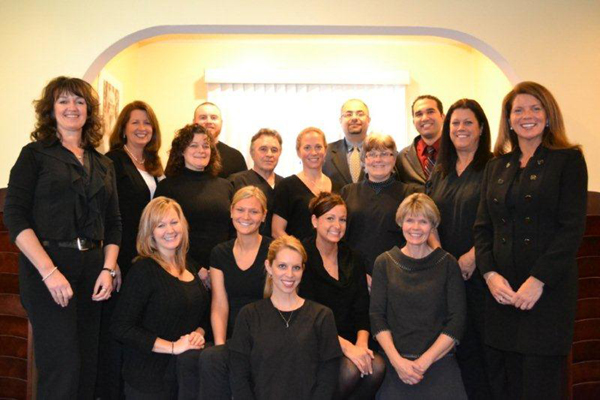 Visit our office and meet one of the finest dental teams around. We create beautiful smiles in a comfortable and state-of-the-art environment.
Hygienists
| | |
| --- | --- |
| | Connie joined the team in 2007. She has been in the healthcare field since 1992 and graduated from NHTI in 2004 as a member of Phi Theta Kappa with an A.S. in Dental Hygiene. Connie enjoys working with her patients on an individual basis to customize their dental treatment with the goal to make their dental experience as positive and pleasant as possible. She specializes in preventative oral health with a particular interest in periodontics. In her free time Connie most enjoys spending time with her family and 4 dogs as well as having hobbies such as photography, cooking, gardening, hiking and spending time outdoors. |
| | Louise joined our practice in 2005 after graduating from NHTI with a degree in Science / Dental Hygiene. In her spare time she enjoys outdoor activities, cooking, music, dancing, having fun and traveling. Louise has a gift of laughter that is contagious amongst the staff and patients! |
| | Polly Comeau has been working at Associates In Family Dentistry since 2006. She graduated from New Hampshire Technical Institute in 2001. She enjoys helping patients become and stay healthy as they can be. She is happily married and she and her husband enjoy spending time with their six children. |
| | Bonnie Lee Brown R.D.H. joined our practice in November 1994. After assisting for many years she continued her passion for dentistry and graduated from NHTI in 1998 as a Registered Dental Hygienist. She was born and raised in Dover, NH and now resides in Center Strafford NH with her husband George. She enjoys all types of art and has continued her education in business administration health care management. Her most precious time is spent with her family and three grandchildren. |
| | Denise Tousignant originally joined our practice in 1994 after graduating from University of Medicine and Dentistry New Jersey with a Degree in Dental Hygiene. Born and raised in NJ she moved to York Maine in 1989. In her spare time she enjoys her 15 year old daughter, Alisha and is a certified Kripalu Yoga teacher. |
| | Sharon Keane R.D.H was born and raised in Rochester NH. She joined our practice in 2005 as a dental assistant and continued her education, earning her associates degree with a major in dental hygiene from NHTI. Sharon is also licensed in NH to administer local anesthesia. She enjoys working and educating patients to achieve and maintain good oral health. Sharon and her husband live in Dover and are enjoying their new baby boy! |
| | Ali joined our team at the end of the year in 2012. She graduated from NHTI in 2012 where she earned her associates degree in dental hygiene. Ali is passionate and energetic about providing oral hygiene care. She is also one of our dental assistants. In her free time she loves spending time in the sun, hiking and playing soccer. |
Assistants
Carrie began working with us in 2001, then left for a couple of years to further advance and educate in Dentistry. Carrie has her certification in radiology, coronal polishing and sealants from NHTI. She lives in Rochester, has a 13 year old daughter and has been married for 12 years. Carrie currently holds the title of "Mrs. New Hampshire 2012" Carrie has been working in dentistry for over 11 years as both administrative and Dental assistant. Carrie loves to meet new people and patients, loves to laugh, joke and smile!

Cindy joined our team in February 2013. She is a graduate of Seacoast Career Schools and has been working in the dental field for two years. She has recently become CDA certified, Radiology certified and CPR certified. Cindy is a mother of three girls. She enjoys outside activities, running and spending time with Family.

Denise Lavoie, Dental Assistant
Denise has been a dental assistant for 17 years. She joined our team in February of 2013. Denise graduated from Carrington College in San Leandro California in 1996 with a dental assistant and radiology certification. Her desire to learn the advancements in dental care and technology are what first attracted her to our office. Her gentle nature and compassion are a perfect fit for our team. Her joy in life is being a mom to her 14 year old daughter. She also enjoys outdoor summer activities and spending time with family and friends.

Jacinthe came to work with us as a dental assistant in May 2012. She has two beautiful girls that she loves spending time with. Jacinthe received her Dental Radiology certificate in 2012 and became certified in coronal polishing through NHTI in Concord. She is also CPR Certified. She plans to continue as a student at NHTI furthering her education.
Administrative
| | |
| --- | --- |
| | Leslie Weeks, Insurance and financial coordinator, has been with the practice since 1994 and has been in Dentistry for 37 years as an assistant and front desk personnel. |
| | Pam joined our practice in 2000. She is the first person that our patients see and enjoy her warm welcome and beautiful smile. She has the ability to make all feel comfortable and has enjoyed her many years of customer service. Pam has two sons and enjoys spending time with her family, friends and loves the outdoors. |
| | Felice joined our practice in early 2001 and has 20+ years in customer service. She has experienced in office management and attended New Hampshire Technical College for accounting. She is happily married to Hoagy and they are the proud parents of Mrs. NH 2011, and a son who plays basketball at Plymouth State. |
| | Leslie Feliciano has been with the practice since 1998 as both a Dental assistant and office manager. Leslie has obtained her radiology certification from Boston University 1999, and CNA Certificate from Virginia Tech in 1992. Leslie is very active in the community and enjoys all aspects of patient care and education. |
| | Janet Gagne joined the practice in 2003. She got her assisting certification from YCCC and Radiology certification from USM in 2003. Aside from enjoying time with family and friends, she enjoys gardening and spending time with her beautiful grandchildren. |

New Patient Offer

Receive $100 OFF
our in house whitening program


Offer Expires:
04/24/2014